Single Tooth Implants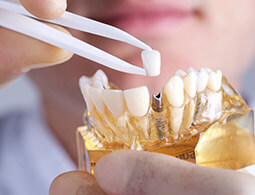 Losing even one tooth throws your entire smile out of balance. Over time, remaining teeth shift out of place, and you may experience jawbone resorption. There are two ways to replace the missing tooth, crown and bridge or single tooth implant. As a periodontist, Dr. Grossman has the experience, skill, and training to provide dental implants for patients from Chestnut Hill missing one tooth.
With a bridge, surrounding teeth receive crowns to anchor the restoration. This means some amount of tooth reduction, and stress and pressure from holding a replacement tooth after the bridge is placed. Dental implants function as their own anchors, so no surrounding teeth are effected. A single tooth dental implant offers the most aesthetic, hygienic, and natural alternative.
If you have more than one tooth that requires replacement, implant-supported dental prosthetics are also available. Would you like to learn more about replacing a single tooth with a dental implant? Contact one of our offices today to reserve your implant consultation. As a periodontist, Dr. Stephen Grossman has the training and expertise to provide exceptional care to patients from Wellesley, Sudbury, and all surrounding communities. We look forward to serving you.