Dental Implants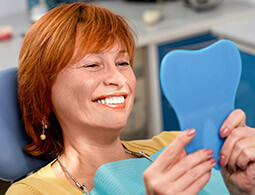 If you have missing teeth or a tooth to be extracted, your dentist may suggest replacing it with an implant. This procedure does not require shaving down adjacent, healthy teeth like placing a bridge does, so it offers the advantage of treating a one-tooth problem with a one-tooth solution.
Dental Implants Explained
An implant is a titanium screw placed in the jawbone, and it functions as a prosthetic tooth root. Bone fuses naturally to the titanium to create a solid, dependable foundation for a restoration or replacement tooth. Your periodontist will assess your unique case, and working with your restorative dentist, customize your treatment plan.
Once your implant has fused with the jawbone, your restorative dentist works with a dental laboratory to create a handcrafted restoration that complements your natural smile. Your dentist secures the restoration to the implant, and you enjoy a solid tooth (or teeth) that returns full function to dentition and beauty to your smile.
Alternative to Traditional Bridges and Dentures
Dental implants look and act like natural teeth, and can anchor single tooth restorations, partial, and full dentures. In the past, a patient with missing teeth would have been fitted for a bridge or full denture. Dentures must be taken out and soaked at night, and bridges require surrounding teeth to be ground down to anchor the false tooth. Dentures use messy adhesives and are known to irritate the mouth and feel unnatural. With dental implants, all these problems are eliminated with these permanent, stable tooth replacements that provide their own anchor, never using surrounding teeth.
Advantages of dental implants:
None of the hassles associated with removable dentures
Firmly attached to the bone structure, leaving them feeling more like natural teeth.
Foods avoided in the past return to the menu
Like tooth roots, implants stimulate the jawbone and prevent bone deterioration
Help prevent the appearance of premature aging that comes with jaw bone shrinkage
You can have one implant or several, based on the restoration you need. If you currently have bridgework or dentures but would like a more solid restoration or are missing teeth and want to enjoy the lifestyle of a full set of teeth, call us today to schedule an appointment.
Call our Acton, MA office to reserve your personal periodontal evaluation. As a periodontal practice, we offer treatments including periodontal therapy, laser periodontal therapy, implant dentistry, gum grafting, soft tissue management and bone regeneration procedures that are backed by extensive education and experience. Our team serves patients from Lexington, Brookline, and beyond. We look forward to meeting you and providing the highest standard of care to address your periodontal needs.