Preventive Periodontal Services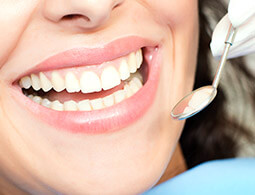 The soft pink tissue above teeth is referred to as "gums," but to dental professionals it's known as periodontal tissue, soft tissue, or gingiva. A periodontist, like Dr. Stephen Grossman, is a dental specialist who restores and maintains the health and appearance of this tissue. It takes years of targeted post-graduate training to be considered a specialist in periodontics.
Because of how prevalent gum disease is, addressing it is one of the most essential services any periodontist offers, Dr. Grossman included. Poor gum health affects many aspects of health beyond the mouth. Patients with advanced gum disease face increased risk of heart attack, stroke, diabetes, and other complications. With that in mind, we emphasize preventive periodontal care. Our preventive services include:
Periodontal Diagnostics
As a periodontist for the Acton area, Dr. Grossman uses his expertise and advanced technology to help patients identify health needs. With diagnostic results, we help you understand needs and partner to create a personalized treatment plan. Your plan may involve scaling and root planing or laser periodontal therapy. If you have questions about the results of your exam or the treatment plan we propose, Dr. Grossman is happy to answer them.
Periodontal Cleanings
Patients who struggle with mild periodontal disease (gingivitis) find relief from their condition with more frequent and thorough dental cleanings. These cleanings are designed to help patients with gingivitis remove harmful plaque and tartar responsible for their condition. Successfully treating gingivitis also requires a commitment to better brushing and flossing at home between visits.
Scaling & Root Planing
Scaling and root planing are used in cases where a patient is struggling with more a more advanced condition known as periodontitis. During a scaling and root planing procedure, plaque and tartar are removed from the pockets between the patient's teeth and gums and the surfaces of the patient's tooth roots. If left untreated, periodontitis results in soft tissue loss, bone loss, and even tooth loss.
Oral Cancer Screenings
Patients with advanced periodontal disease face an increased risk of developing oral cancer. That's why we offer oral cancer screenings alongside advanced periodontal services. Diagnosing oral cancer early is the best way to increase a patient's chances of fully recovering. In too many cases, oral cancer isn't diagnosed until it's at an advanced stage. By this point, making a full recovery is much more difficult.
Our office in Acton, MA are committed to preventive periodontal care. Call us today to reserve a visit with Dr. Stephen Grossman. As a periodontist, he has the extensive education and experience to help patients from Wellesley, Sudbury, and beyond improve oral health and wellbeing.