July 18, 2019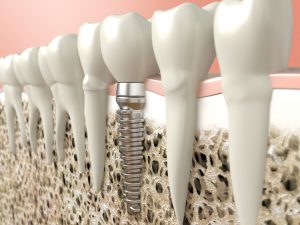 If you're missing teeth, you've heard about dental implants in Concord, MA because they closely mimic the entire structure of a lost tooth. They are also the most reliable tooth replacement option. In fact, they have over a 95% success rate to last for several decades. Their long-term success begins with having the right foundation. Your jawbone must be able to support the posts. If you've lost density in your jaw, you may need bone grafting before having your implant posts placed. Although it is an extra step in your treatment plan, it's time well spent to ensure your new smile lasts.

Why is Bone Density Important?
Dental implants are the only treatment to replace both the root and crown of a tooth. A titanium implant post is surgically placed into the bone to serve as a new root. This stimulates your jaw to promote bone growth through a process called osseointegration, which allows the two to fuse to one another. This creates a stable foundation for your restoration while allowing your implant post to potentially remain in place forever.
If there isn't enough density in your jawbone, it cannot support the posts, which can lead to implant failure. Not to mention, there may not be enough space between the upper jaw and the maxillary sinuses, which are located near the top molars. If there isn't adequate bone, the implant posts can protrude into the sinuses.
Why Have I Lost Bone Density?
No matter the cause of your incomplete smile, if you lost your teeth over a year ago, you already have bone loss. Your jaw is no longer stimulated in the area because the root is missing. As a result, the bone has been slowly deteriorating. The longer you've been without your teeth, the more bone you've lost.
Your bone density can also be compromised if you have had gum disease. The infection destroys the supporting structures for your teeth, including your jawbone.
What Can I Expect?
During your initial consultation for dental implants, a CT scan was taken to assess your oral structures. If your dentist determines you need bone grafting, you're scheduled for your oral surgery. Bone from another site or a donor is transplanted to the weakened areas while you're under sedation or anesthesia. In some cases, you may have a sinus lift at the same time as your grafting surgery. It will take several weeks to heal from the grafting surgery.
Do I Need Bone Grafting?
Your dentist performs a thorough consultation to create a customized treatment plan to replace your missing teeth. They'll explain each step of the process, including if you need bone grafting, so you can start your journey to a complete smile feeling confident.
About Dr. Stephen H. Grossman
Dr. Stephen H. Grossman earned his dental degree in 1979. He has continued his education in several areas of advanced training, including periodontology and dental implants. He can treat complex cases of tooth loss for patients who are interested in dental implants. Contact our office today to schedule a consultation.
Comments Off on Why Do I Need Bone Grafting for Dental Implants?
No Comments
No comments yet.
RSS feed for comments on this post.
Sorry, the comment form is closed at this time.