June 24, 2019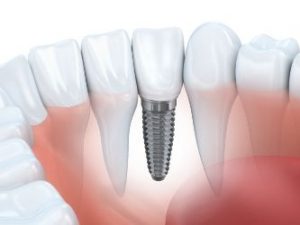 If you were investing in major house renovations such as putting in a new kitchen, you would want to hire a contractor who specializes in kitchens rather than a general handyman, right? You can think of getting dental implants in Concord, MA the same way. This outstanding tooth replacement option is one of the best investments you can make in your oral health, so it's worth it to make sure it's done right the first time by seeing a periodontist. Having this type of specialist perform your implant procedure is unquestionably in your best interest – keep reading to learn more!
Why Should You See a Specialist For Implants?
A general dentist can place implants in your jaw, but there are multiple reasons to see a specialist instead:
The success rate for implants is very high, when it's performed by a specialist. In fact, a recent study published in the Journal of the American Dental Association found that the success rate for implants placed by a specialist was 95-97%, but that dropped to just 82% for general dentists.
Getting dental implants is something that you only have to do once – assuming that high-quality techniques and materials are used and that you care for them by maintaining good oral hygiene. To help your implants fulfill their potential to last a lifetime, why not see a specialist and get the benefit of their advanced training and experience?
Although an implant procedure is done in-office and only takes 1-2 hours per implant, it's still considered a surgery, so there are always inherent risks involved such as the risk of infection. These risks are best managed (and avoided) by a professional who completed advanced training and a clinical residency.
What Kind of Training Does a Periodontist Have?
A periodontist specializes in the prevention, diagnosis, and treatment of gum disease as well as the placement of dental implants. They're experts in the supporting structures that surround the teeth and keep them in place, including the gum tissue, underlying bone, and periodontal ligaments. A periodontist must first complete dental school before entering a periodontal graduate program for an additional 2-3 years. There, they get advanced theoretical training and also complete a residency.
And since a periodontist in Concord, MA performs services such as implant placement exclusively, they gain valuable clinical experience that general dentists simply don't have. This, along with their training, allows them to treat even complicated cases with ease.
The bottom line is that certain oral health problems are better addressed by a specialist. By seeing a periodontist for your implants, you'll get the benefit of their experience that you can't get anywhere else!
About the Author
Dr. Stephen H. Grossman is a periodontist in Concord MA with over 35 years of experience and a graduate of the University of Pennsylvania School of Dental Medicine. He's used dental implants to help countless patients restore their smiles after tooth loss and is continually completing ongoing education to learn the latest techniques. If you have any questions about dental implants or would like to schedule a consultation, he can be reached via his website.
Comments Off on Want the Best Quality For Your Dental Implants In Concord, MA? See a Specialist!
No Comments
No comments yet.
RSS feed for comments on this post.
Sorry, the comment form is closed at this time.