January 14, 2019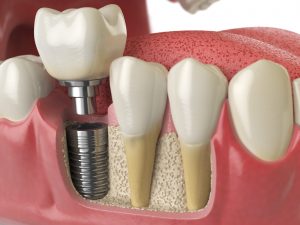 Despite our best efforts to save teeth, tooth loss is incredibly common. In fact, an estimated 120 million people in the U.S. have lost at least one! Unfortunately, even just one missing tooth has a negative impact on your overall oral health and self-confidence. Not to mention that it can lead to other problems that cost you more time and money to fix later on. Since the new year just began, it's a perfect time to restore your smile with dental implants in Concord MA. By the time 2019 is over, you can have a full complement of teeth and fantastic oral health. Keep reading to learn more about the importance of replacing missing teeth and why implants are an ideal solution!
What Are the Consequences of Not Replacing Missing Teeth?
There are many reasons for tooth loss, including gum disease, large cavities, and trauma, and many people are tempted to simply leave the empty space rather than replace the missing tooth (or teeth).
This can lead to several problems down the road, including:
Bone loss in the jaws that changes the facial structure and causes an aged or "sunken-in" appearance
Other teeth will shift, move, or tip forward to "fill" the empty space, causing a misaligned bite
Difficulty eating or speaking
The teeth on either side of an empty space can develop gum disease and cavities
However, the good news is that dental implants are a great way to avoid all of these potential consequences.
What Are the Benefits of Dental Implants?
In many cases, dental implants are the ideal choice because they offer superior chewing strength, stability and longevity. And one key feature accounts for these advantages: Implants replace the roots of the missing teeth.
This replacement root simulates the surrounding jawbone and maintains it over time, just like natural teeth would. It also makes implants feel more like your own teeth than any other option.
In addition, implants can last many decades with basic care and maintenance, which is much longer than bridges and dentures.
A healthy smile starts with a full set of teeth. Dental implants allow you to restore your smile and achieve great oral health for life!
About the Author
Dr. Stephen H. Grossman is a periodontist in Concord MA with over 35 years of experience. Through a variety of gum therapies, he always tries to save existing teeth whenever possible. When that isn't an option, he usually recommends implants because he knows that they're the next best thing to natural teeth. If you have any other questions about dental implants, he can be reached via his website.
Comments Off on Missing Teeth? Fix Your Smile In 2019 With Dental Implants In Concord MA!
No Comments
No comments yet.
RSS feed for comments on this post.
Sorry, the comment form is closed at this time.