March 8, 2019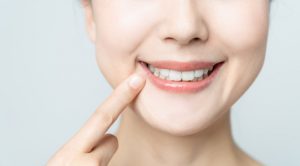 You know you need to replace a few of your missing teeth; however, you're concerned that others will be able to notice the difference between your artificial teeth and your natural ones. Does this sound familiar? One of the great reasons to choose dental implants in Concord is because they are virtually undetectable and will go unnoticed by those around you. Find out more about these unique dental features and how you can keep your new teeth one of your best-kept secrets.
The Secure Choice: Dental Implants
If you have only one tooth missing, you're probably looking for a one-tooth solution, right? Well, you've found it with dental implants. These titanium posts are surgically placed in your jawbone and act as your tooth's root. This prosthetic helps to stimulate your bone, keeping it strong and sturdy, so you don't have to worry about additional teeth falling out because of bone deterioration.
Once the implant is secured in place, you will need a few months to heal. During this time, the implant will fuse to the bone, ensuring a secured placement. Once you are fully healed, you'll return to have a customized crown placed, which will blend in seamlessly with the rest of your smile.
The Undetectable Choice
If you're asking, "Okay, but will anyone notice that I have dental implants?" The answer is, no! While you are healing from having your dental implant surgically placed, your restorative dentist will work with the dental laboratory to craft a customized crown that complements your smile. From matching your tooth color to molding it so that it matches the shape of your natural teeth, no one will ever know you have an implant.
Apart from the pleasing look and feel dental implants offer, you're probably wondering about the other advantages that come with this type of tooth replacement.
Durability. Because they are secured to your jawbone, you don't have to worry about your tooth shifting or falling out. They're held firmly in place. Plus, your dental implants act just like a regular tooth and can withstand normal wear and tear.
Low maintenance. There's no need to buy special supplies with dental implants. Simply brush, floss, and rinse as you do with your other teeth.
Long-lasting. As long as you practice good oral habits, you can expect your dental implants to last for decades!
Keep your treatment a secret by embracing dental implants. Before you know it, you'll have a fully restored smile and an added boost of confidence to go with it!
About the Author
Dr. Stephen H. Grossman, DMD, graduated from the University of Pennsylvania, School of Dental Medicine, in 1979. From there, he went on to complete his general practice residency at the same institution. A year later, he completed a two-year periodontal specialty program at the Boston University, School of Graduate Dentistry. As a periodontist in Concord, MA, he and his staff know your smile is important. If you need periodontal treatment or dental implants, you can expect only the best from Dr. Grossman and his expert team. To learn more about our services, visit our website or call (978) 263-1313.
Comments Off on Find Out Why You'll Be the Only One to Notice Your Dental Implants in Concord
No Comments
No comments yet.
RSS feed for comments on this post.
Sorry, the comment form is closed at this time.