December 22, 2018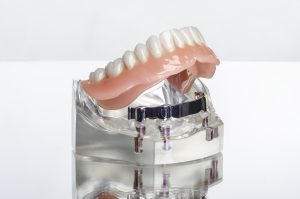 Have you lost all or most of your teeth due to gum disease, trauma, or other unfortunate circumstances? You may find it difficult to chew your food thoroughly, speak clearly, and smile with confidence. Traditional dentures offer a reliable and relatively affordable way to replace your teeth, but for many patients, a superior option is available: dental implants near Concord. Let's discuss the reasons why implants should be your first choice for treating extensive tooth loss.
Stability
Traditional dentures rely on natural suction or dental adhesive to remain secure in the mouth. Therefore, there is always a danger that they will slip out of place during eating or speaking. Implant-supported dentures (removable prostheses that attach to dental implants) and implant-supported full bridges (prosthesis that are permanently attached to implants) do not come with such problems. They are anchored in the jawbone and will never cause embarrassing and uncomfortable mishaps.
Fit and Comfort
Following tooth loss, the jawbone begins to deteriorate. Eventually, it even changes shape, which affects the way traditional dentures fit. Dental implants help to preserve bone mass, which keeps the jaw strong and whole, enabling your new teeth to retain their fit for many years. Implants are also more comfortable than traditional dentures because they keep your new teeth in place. Therefore, your denture or full bridge won't rub against your gums and lead to painful sores.
Strength
Traditional dentures can enable you to eat most foods. However, the bite force that they provide is relatively weak; you have to be careful to avoid eating in a way that could unbalance your dentures or break them. In contrast, the bite force that dental implants provide is on par with that of natural teeth. You'll be able to dig into that crunchy apple or juicy steak without worrying about damaging your new smile.
Aesthetics
Well-made traditional dentures can closely resemble the look of natural teeth, but implant-supported teeth look even better. They replace the teeth from the roots up and fit perfectly, leading to a smile that is truly radiant and is indistinguishable from the real deal. Also, because implants preserve the jawbone, your face will maintain its natural, youthful shape; you won't have to worry about the sunken look that often accompanies extensive tooth loss.
Longevity
Traditional dentures need to be replaced every five to eight years if you want to enjoy teeth that fit and function well. Implant-supported prostheses can endure for much longer — decades, even. The implants themselves have the potential to last a lifetime as long as you take good care of them.
Would you like to experience the benefits of an implant-supported denture or full bridge? Visit a periodontist near Concord, MA who can get you on the road to regaining a beautiful, strong, and healthy smile.
About the Author
Dr. Stephen H. Grossman is an experienced periodontist who is capable of performing even complex dental implant placement procedures. To learn more about dental implants and how you may be able to benefit from them, call one of our convenient locations or contact us via our website.
Comments Off on 5 Reasons to Choose Dental Implants Over Traditional Dentures
No Comments
No comments yet.
RSS feed for comments on this post.
Sorry, the comment form is closed at this time.