December 18, 2019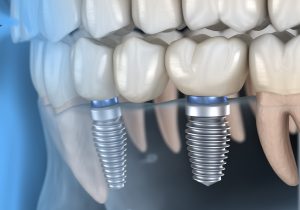 When there's a gap in your smile, dental implants often seem like the best option for filling it compared to less stable restorations. However, you may have heard that the process is much more likely to fail if your jawbone has lost some of its density. Chances are you've already suffered from such bone loss if your tooth was lost a while ago – but this doesn't necessarily mean implants are out of the question! Read on to learn more about the latest research into the link between bone density and dental implant success.
What Does the Research Say?
There was a case-control study meant to examine the success and failure rates of dental implants for patients with low bone density. The sample included twenty women between the ages of 50 and 80 with osteoporosis as well as 10 age-matched women with normal bone density. Each patient received a standard-sized dental implant; after that, the site was examined at 12 and 24 months after placement. The examinations showed that no additional bone loss had occurred, meaning the procedure was ultimately successful.
Up until this point, it's been widely believed that patients with less bone density were not good candidates for dental implants since the jaw wouldn't be able to support the posts. However, this study found that implants were just as successful for patients with bone loss as they were with those with healthy jaws. Of course, further research is needed to confirm the results.
Are You a Candidate for Dental Implants?
If you've lost a tooth, schedule a consultation with your dentist right away to ask about dental implants. Even if your jaw has already started to break down, you might still be able to get implants. In some cases, your dentist might recommend bone grafting to help the bone regenerate itself, increasing the odds of a successful placement.
Of course, there are plenty of other factors that need to be taken into account. For example, patients who smoke or have diabetes need to be careful since they tend to be at a higher risk for gum disease. Such an infection could eventually attack the bone tissue in your jaw and compromise your implants. And of course, if you already have gum disease or another oral health issue, it needs to be taken care of before the implant placement is performed. Your dentist can decide whether you're a candidate for implants after they've performed a thorough examination.
Never be afraid to ask about getting dental implants. When they're successful, they give your prosthetic teeth strength and stability that traditional bridges and dentures can't match. If your jaw can support them, they're likely to be the ideal way to recomplete your smile!
About the Author
Dr. Stephen H. Grossman is a member of the Academy of Osseointegration and founded the Dental Collaborative for Implantology Study Club. He has been placing implants since 1989 and is an expert in helping patients find the best solutions for their tooth loss. To schedule an appointment at his Acton practice, visit his website or call (617) 332-8550.
Comments Off on Can You Get Dental Implants with Low Jawbone Density?
No Comments
No comments yet.
RSS feed for comments on this post.
Sorry, the comment form is closed at this time.