January 10, 2020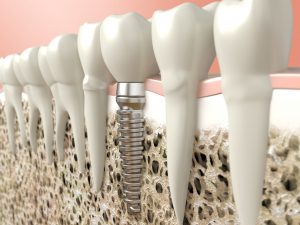 If you've lost a tooth, you can enjoy the next best thing to what nature gave you using dental implants. Over 500,000 people per year turn to them because they are the most reliable option to replace missing teeth. Unlike any other treatment, they replicate the entire tooth structure, including the root. This gives you a solution that can last for a lifetime. If your dental implant feels loose, this is a red flag that there's a serious problem brewing in your mouth. Here's what you need to know to save your dental implant.

How Does a Dental Implant Work?
A dental implant consists of 3 components to recreate the entire tooth. A titanium implant post is surgically placed into your jawbone to act as a new root. This stimulates your bone to encourage new growth. Your jaw will fuse to the post through a process called osseointegration. After you've healed, an abutment is placed onto the post to connect your custom-made restoration.
Why Does My Dental Implant Feel Loose?
With your jawbone fused to the post, you should never experience any slipping or irritation as your implant stays securely in place. If you develop any pain or your dental implant suddenly feels loose, it can be an indicator of a big problem, like your dental implant failing. Here are the most common reasons for it to feel loose:
Loose Restoration
Sometimes, a loose dental implant could be as simple as an issue with the crown. Your crown will experience daily wear and tear. Over time, it may loosen or wobble. Your implant dentist may be able to screw it on tighter to solve the problem. If it's an older restoration, it might be time to replace it.
Bone Loss
If your jaw didn't properly fuse to the implant, it could be the result of bone loss. Without the right foundation, your dental implant can't thrive. As a result, it will need to be taken out, and you'll need to undergo bone grafting before it can be replaced.
Peri-implantitis
The leading cause of dental implant failure is the result of a preventable infection called peri-implantitis. It's caused by bacteria found in plaque and tartar buildup. Often, your dentist can prevent complete implant failure if it's treated early. You'll also need to make changes to your home oral hygiene routine to prevent it from reoccurring.
Save Your Smile
Dental implants are the most successful tooth replacement option. In fact, the risk of implant failure is less than 5%. While it's rare for a problem to occur, if your implant feels loose, don't wait to see your dentist. Quick action can save your smile!
About Dr. Stephen H. Grossman
Dr. Stephen H. Grossman earned his dental degree and underwent additional training in a periodontal specialty program. He also holds various memberships in several dental organizations. Dr. Grossman has the qualifications and experience to treat even the most complex oral health cases. If you're ready to replace your missing teeth, or you're experiencing implant failure, he can help. Contact our office today for a consultation.
Comments Off on Why Is My Dental Implant Loose?
No Comments
No comments yet.
RSS feed for comments on this post.
Sorry, the comment form is closed at this time.