September 6, 2017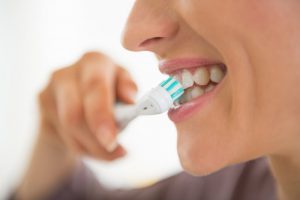 Brushing your teeth before bed has started to look like a war zone in your sink. There has been blood the last few times and you're not sure why since your teeth don't hurt. Did you know that this is actually an early indication of periodontal (gum) disease, which is a very prevalent condition among American adults? More than half of adults over the age of thirty are dealing with gum disease in some form. Periodontal laser surgery in Concord can help patients who are living with advanced gum disease, and here's why seeing a periodontal specialist is the best choice for your oral health.
What is Periodontal Disease?
Gum disease is essentially an infection of the support system for your teeth, which includes your soft tissues and jawbone. It typically starts off slowly without many noticeable symptoms; however, you may see blood in the sink when you brush your teeth, or it may appear that your gums are red and swollen. These are the first signs of gum disease, and this stage is known as gingivitis. This is an excellent time to contact your dentist.
If your condition progresses to periodontitis, you've reached the advanced stage of gum disease and may require advanced services. This is where a periodontal specialist can make a huge difference.
Why Choose a Periodontal Specialist?
Your gums are the foundation for your teeth, and if they are not healthy, you may face tooth loss. A periodontist not only has advanced training in managing gum disease, they also have the skills and technology to make the process more comfortable.
What is Periodontal Laser Surgery?
Advanced gum disease will require a deeper cleaning to remove excess plaque buildup called tartar from below your gum line. This is the first step in eliminating the infection. A dental laser uses concentrated light and heat to remove diseased tissue, while keeping healthy tissue comfortable. It also promotes clotting of the blood and sterilizes the area for quicker healing.
Because there is no cure for gum disease, partnering with a skilled specialist can help you successfully manage your condition and improve your overall health and well being.
About the Author
With over 30 years of experience in helping patients manage gum disease, Dr. Stephen H. Grossman is the periodontist you can trust. Dr. Grossman is also a clinical instructor at the distinguished Harvard School of Dental Medicine, and he is the periodontist on staff with Emerson Hospital. With two convenient MA locations, Dr. Grossman can meet your periodontal needs.
If you would like to contact Dr. Grossman, he can be reached through his website, or by calling 978-263-1313.
Comments Off on Why You Should See a Specialist for Periodontal Laser Surgery in Concord
No Comments
No comments yet.
RSS feed for comments on this post.
Sorry, the comment form is closed at this time.