February 12, 2018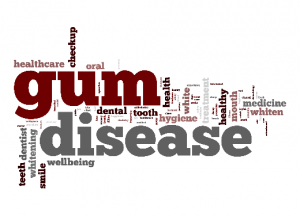 The health of your mouth is important to you, which is why you take the time to brush your teeth twice a day to prevent cavities. Although tooth decay is a leading cause of oral health complications, it is not the only threat to your smile. Periodontal disease, also known as gum disease, can wreak havoc on your dental and general health. Although it is easily preventable, the Centers for Disease Control and Prevention estimates that at least half of adults have it. At the first sign of the infection, it is vital that you seek immediate care from your periodontist.

Treating Gum Disease Early
Periodontal disease is an infection that developing in the gum tissue due to bacteria that is found in plaque and tartar accumulations, which often result from poor oral hygiene. During the early stage, known as gingivitis, you will likely experience red, swollen, or bleeding gums. At this point, it is treatable and reversible without causing any long-term damage. Unfortunately, these early warning signs often go ignored, allowing it to progress in severity.
Over time, the infection will begin to destroy the supporting structures of the teeth, leading to tooth loss. The bacteria responsible for gum disease can also enter the bloodstream. As it circulates throughout your body, it increases your risk for several serious health complications, including heart disease, Alzheimer's disease, and respiratory infections.
Thankfully, gum disease is easily preventable with a proactive approach.
Steps to Prevent Gum Disease
Although gum disease is common, you can prevent it with 5 simple steps:
Brush Twice a Day: Use a soft-bristled toothbrush and a fluoride toothpaste to clean all surfaces of your teeth and tongue twice a day for two minutes.
Floss Daily: Flossing removes plaque and bacteria that has been left behind by your toothbrush. Every night before going to bed, take the time to floss in between each tooth.
Visit Your Dentist Twice a Year: Schedule a preventive appointment with your dentist twice a year for a cleaning and checkup. Harmful accumulations on the teeth will be removed while your dental health will be monitored to detect areas of concern sooner, like gum disease.
Don't Use Tobacco: Tobacco use in any form increases your risk for gum disease because it lowers your body's ability to heal and fight infections. It is best to avoid tobacco altogether.
Eat a Balanced Diet: Limit your consumption of sugary foods and drinks. Instead, choose plenty of fresh fruits and vegetables to promote your oral and overall health.
Protect Your Smile
With the right care, you can prevent gum disease from developing; however, if you experience warning signs of the infection, do not wait to schedule an appointment with your Concord, MA periodontist.
About Dr. Stephen H. Grossman
Dr. Stephen H. Grossman completed additional training in a two-year periodontal program to offer prevention and treatment for gum disease. As a member of the American Academy of Periodontology, he is a trusted provider for periodontal therapy. If you are suffering from the infection, contact our office today to schedule your consultation for treatment.
Comments Off on 5 Steps from Your Periodontist to Prevent Gum Disease
No Comments
No comments yet.
RSS feed for comments on this post.
Sorry, the comment form is closed at this time.