October 4, 2018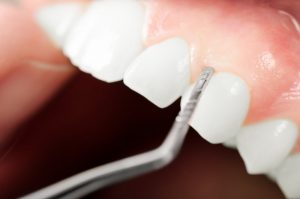 Did you know that around 80% of Americans are affected by some form of periodontal (gum) disease at some point in their life? There are a lot of factors that can cause gum disease, but the leading cause is improper oral healthcare. Some patients talk about their family members having issues with their gums as well. Does this mean gum disease is hereditary? Keep reading to learn the answer from your highly-trained periodontist in Concord, MA.
What is Gum Disease?
Gum disease, or periodontitis, is an infection of the gums that if left untreated, can lead to tooth and bone loss. It is the leading cause of tooth loss in the US, and it usually starts off with bleeding or puffy gums.
What Are the Signs of Gum Disease?
Be on the look out for the most common signs of gum disease:
Swollen, red, or tender gums
Bad breath
Toothaches
Bright red gums
Bleeding gums
Receding gums
Loose teeth and tooth loss
Gum disease shows up in various ways, so the best way to prevent it is to see your periodontist (gum specialist) at least twice a year for routine checkups. They will be able to detect any signs of disease and treat you before the disease advances.
Is Gum Disease Genetic?
Current studies show that gum disease is influenced by heredity, so your family genes could have the potential to make you more susceptible to this disease. Up to 30% of the population may have genes that make them more susceptible to getting gum disease.
Additionally, Aggressive Periodontitis is a condition that causes patients to rapidly lose bone around teeth. It has been proven over the years that a lot of these cases are passed down through families, and it can even be traced back generations. Many patients who are more susceptible to gum disease have genetic factors that are affecting their immune system, making it up to 20 times more likely they develop periodontitis.
Thanks to modern technology, there's now a genetic test that you can take if you have family members that have suffered from gum disease. Positive test results could influence the way your gums are treated. The more information you give your dentist about your gums and family history, the better they'll be able to understand and treat the issue at hand.
Do you have family members that have struggled with gum issues over the years? Talk to your local periodontist about disease prevention and possible treatment options.
Meet the Periodontist
Dr. Stephen H. Grossman is a highly-trained periodontist, which means he specializes in the prevention, diagnosis, and treatment of periodontal (gum) disease, and the placement of dental implants. He knows the risks of gum disease well, which is why he wants you to be aware of your family's gum history. He currently runs his own practice, and he can be contacted through his website or by phone at (617) 332-8550 for any questions.
Comments Off on Is Gum Disease Hereditary? A Periodontist in Concord, MA Explains
No Comments
No comments yet.
RSS feed for comments on this post.
Sorry, the comment form is closed at this time.