December 19, 2017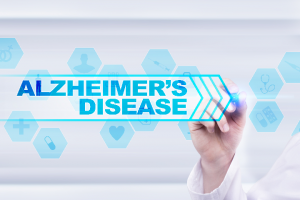 Alzheimer's Disease is a devastating condition that affects an estimated 5.5 million Americans according to the Alzheimer's Association. The neurodegenerative condition is the 6th leading cause of death in the United States. While the exact cause of it has yet to be discovered, there are certain genetic, environmental, and lifestyle factors that are believed to increase the risk for it. Now, research shows that those with prolonged untreated periodontal disease (gum disease) could develop the condition. With the bacteria responsible for the infection often found in the brains of those with Alzheimer's, it is more important than ever to visit your periodontist for gum disease therapy at the first sign of inflammation.

Connection Between Gum Disease and Alzheimer's
Periodontal disease is an infection that develops in the gum tissue due to bacteria that is found in an accumulation of plaque and tartar that results from poor oral hygiene. The Centers for Disease Control and Prevention estimates that roughly 50% of adults suffer from a form of it. While it is easily preventable and treatable in the early stages, it often goes untreated.
Recently, a study by the Chung Shan Medical University found that those with a 10-year or longer history of chronic gum disease have a 70% increased risk for developing Alzheimer's. A separate study conducted by the University of Central Lancashire School of Medicine and Dentistry took brain tissue samples from 10 patients with dementia and 10 patients without it. During their examination, they found that four samples from those with dementia had the bacteria that is responsible for gum disease in their brain tissue.
The bacteria can enter the bloodstream when chewing or brushing the teeth. As it circulates throughout the body, it is carried to the brain. It is believed this then triggers an immune system response that begins to kill the brain cells. This could play a role in the development or worsening of Alzheimer's symptoms.
Protect Your Health from Gum Disease
Although gum disease is quite common, it is easily preventable with proper oral hygiene and regular dental cleanings. However, if it does develop, it is vital to seek treatment from a periodontist as soon as possible. With quick action and a proactive treatment plan, the infection can be stopped before it causes irreversible damage to your oral and general health.
Get a Healthy Smile Today
If you have symptoms of the infection, do not wait to get the treatment you need. Contact your periodontist for gum disease therapy.
About Dr. Stephen H. Grossman
In addition to completing his general dentistry degree, Dr. Stephen H. Grossman furthered his education by two years to specialize as a periodontist. Due to his experience and qualifications, he remains an active member of various dental organizations, including the American Academy of Periodontology and the American Dental Association. With a deep understanding into the prevention and treatment of gum disease, he can help you rehabilitate your dental health. If you need treatment for periodontal disease, contact our office today to schedule a consultation.
Comments Off on Periodontist Explains the Connection Between Gum Disease and Alzheimer's
No Comments
No comments yet.
RSS feed for comments on this post.
Sorry, the comment form is closed at this time.