August 11, 2019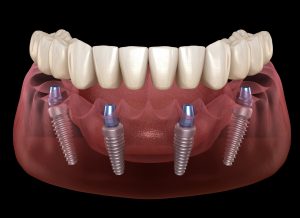 Dentures are a popular choice to treat complete tooth loss in one or both arches because they are convenient and effective. Now, new materials and methods enhance their comfort and fit to restore your ability to chew, speak, and smile confidently; however, they will always have their limitations. If dentures didn't give you the results you want, you can permanently eliminate slipping and irritation with dental implants in Concord, MA. You can stabilize your denture to enjoy the next best thing to your real teeth.

Do My Dentures Fit Properly?
If you've had dentures for a while, you may notice something just isn't right. Over time, the ridges in your gums shrink and you'll lose bone in your jaw. This can lead to several issues as your dentures will not fit as they should. You can experience a variety of symptoms, including:
Irritation or discomfort.
Difficulty speaking.
Difficulty eating or swallowing.
Gum pain.
Bleeding gums.
Clicking noise when eating.
Bad breath.
Strange taste in the mouth.
What are the Complications of Ill-Fitting Dentures?
At first, ill-fitting dentures may not seem like anything more than an annoyance, but it can lead to serious complications that can have long-term consequences, such as:
How Can I Secure My Dentures?
Regular maintenance and adjustments can keep your dentures from moving, but that is a short-term solution. You can stabilize your denture and permanently eliminate slipping and irritation with dental implants. You will no longer rely on suction or an adhesive to hold them in place. Instead, an average of 4 to 8 implant posts are strategically placed into your jawbone to secure your denture. You can enjoy the next best thing to your natural teeth using a solution that can last for a lifetime.
What are the Benefits of Implant-Retained Dentures?
Implant-retained dentures differ from the traditional treatment because they also replace the root structures of your teeth. This stimulates your jaw to encourage new bone growth through a process called osseointegration. This allows you to enjoy a variety of benefits that aren't possible using a traditional denture, including:
Over a 95% success rate to last for several decades.
Looks natural to smile confidently.
Restore as much as 70% of your biting force.
Preserves your jawbone's density.
Supports your facial tissues.
Eliminates slipping and irritation.
Easy maintenance and care.
Long-term, cost-effective solution.
Invest in a Secure Future
You don't have to deal with poorly-fitting dentures. Stabilize your smile with dental implants to improve your quality of life.
About Dr. Stephen H. Grossman
Dr. Stephen H. Grossman earned his dental degree and continued his training by 2 years to specialize in periodontal treatments. Supported by extensive training and qualifications, he is a member of various reputable dental organizations, including the American Academy of Periodontology, Academy of Osseointegration, and the American Dental Association. He provides advanced solutions to improve his patients' overall wellbeing. If you're ready to secure your denture, contact our office today to schedule your consultation for dental implants.
Comments Off on Ill-Fitting Dentures? Stabilize Your Smile with Dental Implants
No Comments
No comments yet.
RSS feed for comments on this post.
Sorry, the comment form is closed at this time.