September 22, 2019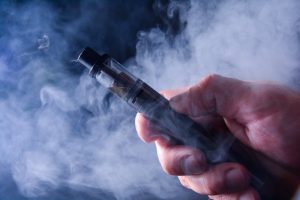 At first, e-cigarettes were advertised as the "safe" version of regular smoking, but in recent times, it's become incredibly obvious that this isn't the case. Multiple studies have found that vaping can have devastating effects on your health – and when it comes to your mouth, they might even be more dangerous than traditional tobacco use.
How Does Vaping Work?
Vaping is short for "vaporizing." It works by heating up the liquid in the e-cigarette and turning it into an aerosol that can be mistaken for water vapor. This liquid contains nicotine along with glycerin, propylene glycol, water and possibly flavoring. E-cigarettes don't usually contain tobacco, but that doesn't mean they're not harmful.
What Does Vaping Do to Your Oral Health?
The nicotine in e-cigarettes reduces the flow of blood in your gum tissues, slowly killing them off. This causes your gums to recede and expose the vulnerable roots of your teeth to decay. Nicotine also stops the mouth from producing the saliva it needs to keep oral bacteria under control, putting you at a higher risk for tooth decay and gum disease. Finally, if you grind your teeth at night, nicotine can fire up your muscles and actually make the problem worse.
The other ingredients that e-cigarettes contain can also be dangerous. Propylene glycol breaks down into products that are toxic to tooth enamel and gum tissue. Glycerin mixed with flavorings make it easier for bacteria to become stuck to your teeth and cause decay. In short: vaping will make it much harder to keep your mouth clean and healthy, and over the long term the effects will start to show in your smile.
What Other Health Risks are Caused by Vaping?
Of course, your mouth isn't the only part of your body that's put at risk by vaping. The link between nicotine and several different kinds of cancers – specifically lung, gastrointestinal, pancreatic and breast cancer – is well-known. And while the long-term effects of vaping still need to be researched, there is plenty of evidence showing that it can damage your lungs, your blood cells, your heart, your immune system and even your DNA.
What Can You Do If Vaping Has Already Damaged Your Mouth?
If you've been using e-cigarettes, you should stop as soon as possible. Your dentist or periodontist in Acton can try and help you reverse the damage to your teeth and gums. For example, if you have gum disease, then they might suggest a periodontal treatment known as scaling and root planing.
You should also call your general health care provider right away so that the rest of your body can be examined and treated appropriately as well. They can also suggest local programs and other resources to help you stop the habit. Protect your smile – and your life – by saying "no" to vaping.
About the Author
Dr. Stephen H. Grossman is a member of the American Academy of Periodontology and completed a two-year periodontal specialty program at the Boston University School of Graduate Dentistry. He's incredibly skilled in treating different levels of gum disease. If you or a loved one has suffered from oral health problems due to vaping, contact his practice for an appointment through his website or by calling (978) 263-1313.
Comments Off on The Truth About Vaping and Dental Health
No Comments
No comments yet.
RSS feed for comments on this post.
Sorry, the comment form is closed at this time.