August 7, 2018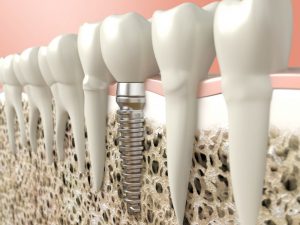 General dentists are most ideal for those pursuing preventive treatments, basic restorations and many other forms of dental care. However, that doesn't mean they're capable of performing every treatment in dentistry out there with full confidence. For example, dental implants are a specialized treatment that not all dentists can perform properly. In the hands of someone inexperienced, you put your chances of the most successful implantation at risk.
For this reason, you'll want to see a periodontist before getting dental implants in Westford.
What is a Periodontist?
Most people aren't familiar with periodontists because they're a specialist who isn't necessarily needed every time you make a visit. However, there expertise is quite useful when treatments related to the gums are needed. Periodontists specialize in the treatment of gum diseases and keeping your gums as pink as possible. Pink gums mean blood flow is stable and no infection is present. Of course, periodontists don't only focus on the gums.
They also focus on a part of the mouth that often doesn't get much attention. This is known as the alveolar process. This bone portion works to keep teeth inside your socket. If this process breaks down, it can easily lead to tooth loss. If you're seeking dental implants due to gum disease, you're probably already familiar with this area. Periodontists also care about the cementum, which is essentially calcified tissue that connects the teeth to the gums.
Without healthy gums, alveolar bone and cementum, placing implants is a nearly impossible task.
How Do Their Skills Tie to Implants?
Periodontists' main goal is to protect all the structures responsible for keeping teeth in place, including dental implants. They often work directly with implant dentists or general dentists to make sure that your gums, jawbone and connective tissue are operating at full capacity. They're making sure no gum disease is present, which is an automatic disqualifier for implant surgery until it's cleared up.
Even if you don't have gum disease, periodontists can ensure that your implant surgery is as successful as possible. They help plan where your implants will go and determine which type of implant procedure is best for your needs. Each stage of your implant process, from the planning to the surgery to the aftercare, is better enhanced when supervised and planned by a periodontist.
The Benefits You Can Expect
By keeping this dental professional in mind, you can expect many benefits during treatment, including:
Tips to shorten healing time
Helpful mediation on the treatment process
A more thorough evaluation of your gum health, bone mass and overall eligibility
A higher success rate in the short- and long-term
Don't just see any dentist for dental implants. Obtain the most relevant expertise from a periodontist in Westford, MA today!
About the Author
Dr. Stephen H. Grossman earned his DMD degree from the University of Pennsylvania School of Dental Medicine. After completing his two-year periodontal specialty program at the Boston University School of Graduate Dentistry, Dr. Grossman became a member of the American Academy of Periodontology and the Academy of Osseointegration. To learn more about his practice or expertise, you can contact him through his website.
Comments Off on Why You Should Pick a Periodontist for Dental Implants in Westford
No Comments
No comments yet.
RSS feed for comments on this post.
Sorry, the comment form is closed at this time.