November 30, 2016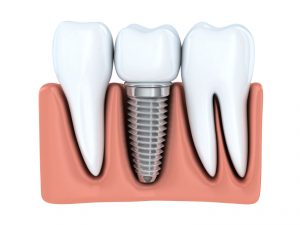 Congratulations! You've decided to replace your missing tooth with dental implant. Did you know that you've chosen the best tooth replacement option that dentistry has to offer? Now that you've made your decision, you're ready to get treatment underway so you can enjoy your new tooth. Working with the right providers makes the process more comfortable and efficient for you. Here's why you should see a periodontist for your dental implants.
What is a Dental Implant?
A dental implant is comprised of three components that make it successful. A biocompatible titanium post is surgically placed into your bone, which creates the foundation for your new tooth, or porcelain crown. After the appropriate healing time has passed, your new crown is attached to your implant with an abutment. Now you have your new tooth, and you'll enjoy all the function you had with your natural tooth.
What does a Periodontist Do?
A periodontist is a dentist with specialized training in managing and treating periodontal disease, oral inflammation, and the placement of implants. Dr. Stephen Grossman is your premiere Concord, MA periodontist, who has been serving the community for over thirty years. Dr. Grossman has extensive training in placing dental implants and he also spends his time educating other practitioners about implant dentistry.
When you decide to replace your tooth with a dental implant, Dr. Grossman works closely with your general dentist to plan your surgery and restoration so that your procedure goes as smoothly as possible. Dr. Grossman will perform the surgical placement of your dental implant, and then monitor your healing process to make sure your implant is integrating properly with your bone.
The Restoration Process
After the appropriate healing time has passed, you'll return to your general dentist to have your restoration completed. They'll custom design your crown and ensure that it fits and matches your existing teeth and naturally complements your smile. With regular dental checkups and an excellent homecare routine, your dental implant has the potential to last for a lifetime.
Working with a specialist for your implant surgery gives you the peace of mind that your surgery will be successful. Dr. Grossman gives each patient comprehensive and individualized care to ensure that your needs are met throughout the entire process. Contact our office today to learn more about working with Dr. Grossman for your dental implant.
Comments Off on Why You Should See a Periodontist for Your Dental Implants
No Comments
No comments yet.
RSS feed for comments on this post.
Sorry, the comment form is closed at this time.