October 28, 2017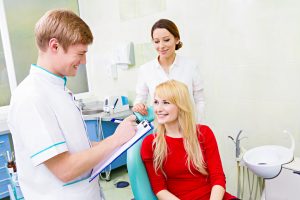 Periodontal disease, more often referred to as gum disease, can lead to a number of oral health concerns, including tooth decay, gum tissue recession, and even tooth loss. Most patients are aware of this, but what many people don't know is that gum disease adversely affects the whole body. Studies are still being conducted to help dentists and patients alike better understand the specific links between gum disease and oral health, but the results are clear in stating that poor oral health increases your risk for numerous overall health concerns. Brush and floss daily, visit the dentist regularly and seek treatment for periodontal disease right away.

1 – Periodontal Disease Increases the Effects of Diabetes
Patients with diabetes are at a much higher risk for gum disease, and patients with periodontal disease are more likely to experience adverse health effects of diabetes. Studies show that both diabetes and gum disease need to be treated in concert in order to improve either of the illnesses and restore oral and overall health. Meaning diabetes treatments are less effective if patients are suffering from untreated gum disease and vice versa.
2 – Pregnant Women are at Higher Risk for Gum Disease
Expectant mothers experience this oral health concern so often that it has its own name, pregnancy gingivitis. Left untreated, pregnant mothers with gum disease are more likely to experience preterm or low weight births.
3 – Heart Disease is More Prevalent for Gum Disease Sufferers
Gum disease occurs due to plaque buildup at the gum line that causes irritation or infection in the soft tissue. The plaque and infection can then enter the bloodstream through the tooth's nerve system that connects to the body through the gums. Research indicates this plaque may increase the patient's risk of heart disease and stroke.
4 – People who Suffer from Alzheimer's are More Likely to Have Gum Disease
Alzheimer's disease has been called mental diabetes because it is caused by the brain's inability to break down and properly utilize nutrients the same way that diabetes affects the whole body. Like diabetes, Alzheimer's sufferers are at a greater risk for gum disease due to the fact that the body is not able to effectively respond to infection and inflammation in the gum tissue while trying to combat Alzheimer's disease. In order to achieve the maximum symptom relief for patients suffering from this cognitive disorder, patients need to maintain their optimal level of oral health.
Meet Dr. Grossman
At Stephen H. Grossman, DMD Periodontics & Dental Implants, we offer a wide range of treatment options that renew oral health and create beautiful, healthy smiles. Dr. Grossman is a skilled periodontist. He completed a two year specialty program beyond his doctoral studies in dentistry that allow him to provide even the most advanced therapies to repair smiles. From treatments for gum disease sufferers to advanced dental implant placement procedures, our team is here to help. Call our office today to find out more about periodontal therapies or schedule your appointment with Dr. Grossman and his caring team.
Comments Off on 4 Things You Need to Know About Gum Disease & Overall Health
No Comments
No comments yet.
RSS feed for comments on this post.
Sorry, the comment form is closed at this time.