June 11, 2018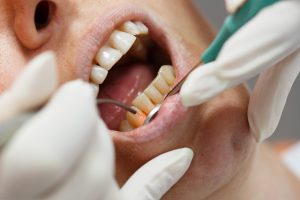 Patients may need periodontal surgery to repair damage caused by gum disease, to graft soft tissue, or to reshape their gum line by removing excess tissue. There are a number of different methods used to perform these soft tissue surgeries, but in recent years, many dentists have started to offer conservative treatment using soft tissue lasers. Before beginning your gum surgery, read this post to learn more about your surgical treatment options. When you visit a periodontist for your gum treatments, you will likely have more options, so you should consider scheduling a consultation with a local periodontal specialist.

The Traditional Treatment Process
Traditionally, gum treatments involved using sharp tools to remove soft tissue. Then, the soft tissue would need to be stitched. These treatments are highly invasive, and it can take weeks or months for patients to fully heal following traditional periodontal surgeries. During their healing time, patients are at increased risk for gum infection, and if they are struggling with periodontal disease, this increases the risk that patients will experience more severe or advancing gum disease.
Soft Tissue Laser Gum Treatments
Unlike traditional surgical treatments, laser therapy is faster, more comfortable, and offers increased precision. During your surgery, the soft tissue laser is precisely calibrated to remove damaged tissue, reshape the gum line, or reveal supportive tooth structures. The laser cuts through tissue painlessly, and because it cauterizes as it works, you will experience very little bleeding throughout treatment. Following your procedures, you won't need to worry about stitches or extended healing time. Most patients simply experience some mild swelling of the soft tissue for the first 48 hours after treatment. Then, you can go right back to your regular daily routine with a healthier smile on your face. Soft tissue laser gum treatments also reduce your risk for infection or the advancement of periodontal disease.
Meet Dr. Grossman
Skilled periodontist, Stephen H. Grossman, DMD, has advanced training and skills that allow him to provide a wide range of surgical and non-surgical periodontal therapies to create healthy, beautiful smiles. From gum disease treatment and maintenance to the most complex dental implant supported tooth replacement plans, our team is here to help you achieve your optimal level of oral health. If you're in need of periodontal therapy or gum surgery, call to schedule a consultation appointment in one of our convenient dental office locations in Acton or Newton Centre.
Comments Off on Traditional VS Laser Periodontal Gum Surgeries
No Comments
No comments yet.
RSS feed for comments on this post.
Sorry, the comment form is closed at this time.